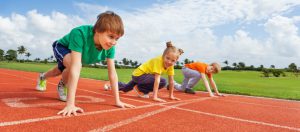 At Fast and Fit, we pride ourselves on our ability to provide a professional level coaching service but at the same time provide a fun, friendly and physically and mentally healthy environment.
We cater for all abilities and ages, including Junior Age kids just learning the basic elements of running and fitness. Kids need to be coached in a way so that they learn and develop their athletic abilities, but at the same time retain their interest and excitement. A respectful, friendly and professional attitude by the coaching staff is the key. All world class athletes had to start somewhere and the elements they take away from their first few years will stay with them or the rest of their lives.
We coach Open Age State, National or International competing athletes who want to better their competition performances. The best method to achieve the best you can is with a private coach. Training with a squad is great but sometimes we need some personal one on one coaching to point out minute technical issues that might exist. A personal phased coaching session plan created by us is designed for each athlete. This will be tailored to the individual athletes abilities and needs.
Of course, let's not forget our Mature Age athletes who might be competing at a State, National or International level, or who might be just doing it for the social and fitness aspects. We specialise in Mature Age training sessions, and can include rehab and injury management session plans.
Each age group is unique and require different coaching procedures and session plans.
Our Fast and Fit coach David Isackson, is himself a current National and International competing athlete with several records and World Championship medals to his name. Being a currently competing athlete means he understands the intricacies of yearly phased training sessions, healthy and athletic lifestyle and diet, injury management and the pressures of performing at your best in sometimes the highest level of competition.